Your New Digital Banking
Solution Has Arrived!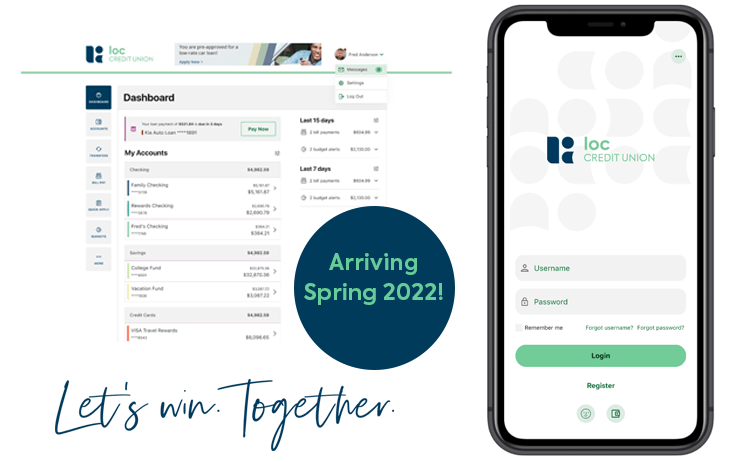 We're excited to welcome you to an intuitive and robust Digital Banking solution that will offer a seamless experience regardless of the device you use. In addition to a consistent experience across all of your devices, there will be a number of new features and added functionality that you're going to love, that will help ensure that you're getting the most out of your LOC accounts.
New & Enhanced Features Include
Comprehensive credit score analysis, reporting and more
Financial Wellness tools for spending, saving and personal financial management
Quick access to accounts and available balances
Member to member account transfers
Add and monitor your accounts outside of LOC for full circle view of all of your account activity in one convenient location
Increased card controls across all devices
Multi-factor and biometric authentication for added strength and security
Customized account alerts and notification options to keep you in control of your finances
Members with multiple member numbers or who are joint on other accounts will see all their account information under one login
Joint members can also have their own login credentials
Clean transaction descriptions to help you more easily identify and track transactions
Ability to establish stronger passwords and 2-Factor Authentication for logging in
One of our top priorities is ensuring your data and information is safe. Utilizing multi-factor and biometric authentication, the strength and security measures of our new digital banking platform give us the ability to easily monitor and prevent potential cases of fraud on your accounts. Anytime a new device or suspicious activity is detected, you can expect to receive a randomly generated access code sent to your e-mail or mobile phone. These real-time authentication requests are one of many features of our new Digital Banking experience designed to give you peace of mind, knowing your accounts and information are safe.
What You Can Do to Prepare for The Upcoming Launch
While we continue to get this new solution ready for launch, we highly recommend you review your account information today to ensure your contact details are up-to-date. This will be vital in setting up your account in the new platform when the time comes. Please follow the steps below to ensure we have your most current contact information.
Login to Online Banking
Select the "Service" tab at the top of the page
Find Address, Phone & eMail Change and click on "Continue"
Verify that all of your contact information is correct, including email, address and phone number
Click "Submit", double check your information and then click on "Confirm" to process any changes
LOC will only be converting over those users who have logged in in the last 12 months. However, you will be able to re-register for online banking at any time.
Additionally, if Internet Explorer 11 is your preferred browser, we recommend you make the switch now to the latest version of Google Chrome, FireFox, Microsoft Edge or Safari to ensure you're getting the optimal experience with our new innovative digital banking platform.
Accessing Your Existing Accounts
Members who have multiple member numbers with LOC will need to use the username associated with their oldest member number to login for the first time.
Joint members without their own member number should create their own set of login credentials. With our new Digital Banking Solution, all members will have their own unique username and password, including those joint on any account(s).
We will only be converting over those accounts who have logged in within the last 12 months. For those existing users, the first time logging in to our enhanced Digital Banking solution will be a simple process:
From your mobile device or tablet, visit the app store to get the most updated version of our new Digital Banking Application by searching for LOC Mobile. (Android users will first need to delete their existing LOC app prior to installing the new one)
Once you've opened the Mobile App/Online Banking, enter in your current digital banking username and password. Select "Login".
You will be prompted to create a new password
Read the disclosure and Select "Agree"
Verify your identity by entering in personal information associated with your account (Username, Account Number, Social Security Number, date of birthday and e-mail address)
To easily choose the birth year, simply click on the "2022" in the upper left hand corner of the calendar to populate a scrolling calendar
Select a delivery method to receive a temporary password (text or eMail)
Select the "Login" button
Enter your username and temporary password that was just sent to you
Now you will create a new password. Make sure your password meets all of the necessary requirements in order to keep your account secure:

At least ten characters
At least one lowercase letter
At least one uppercase letter
At least one number
At least one special character
New Users of Digital Banking
If you are not currently a user or have not used Online or Mobile Banking with us in the last year, then you will need to register as a new user.
Download the new LOC Mobile App
Click the "First Time User" or the "Sign Up Now" link. This will prompt the system to walk you through the setup where you'll just follow the onscreen instructions.
If you run into any issues along the way, please reach out to our Contact Center at 800-837-4562 and one of our team members will be more than happy to assist you!
Setting Up New Account Alerts
Any existing alerts you have setup in our current Online Banking will need be setup again once our new Digital Banking solution launches.
With our new solution, in addition to the Email and SMS text alert options previously available you'll be able to setup Push Notifications for your Mobile Device.
Some alerts, like changes to your account profile, are set-up as default to help protect your accounts. While these alerts cannot be turned off, you can edit how you wish to receive these type of alerts. Please see below for some examples of the type of account alerts you will be able to setup in our new Digital Banking Solution and how you can receive those alerts: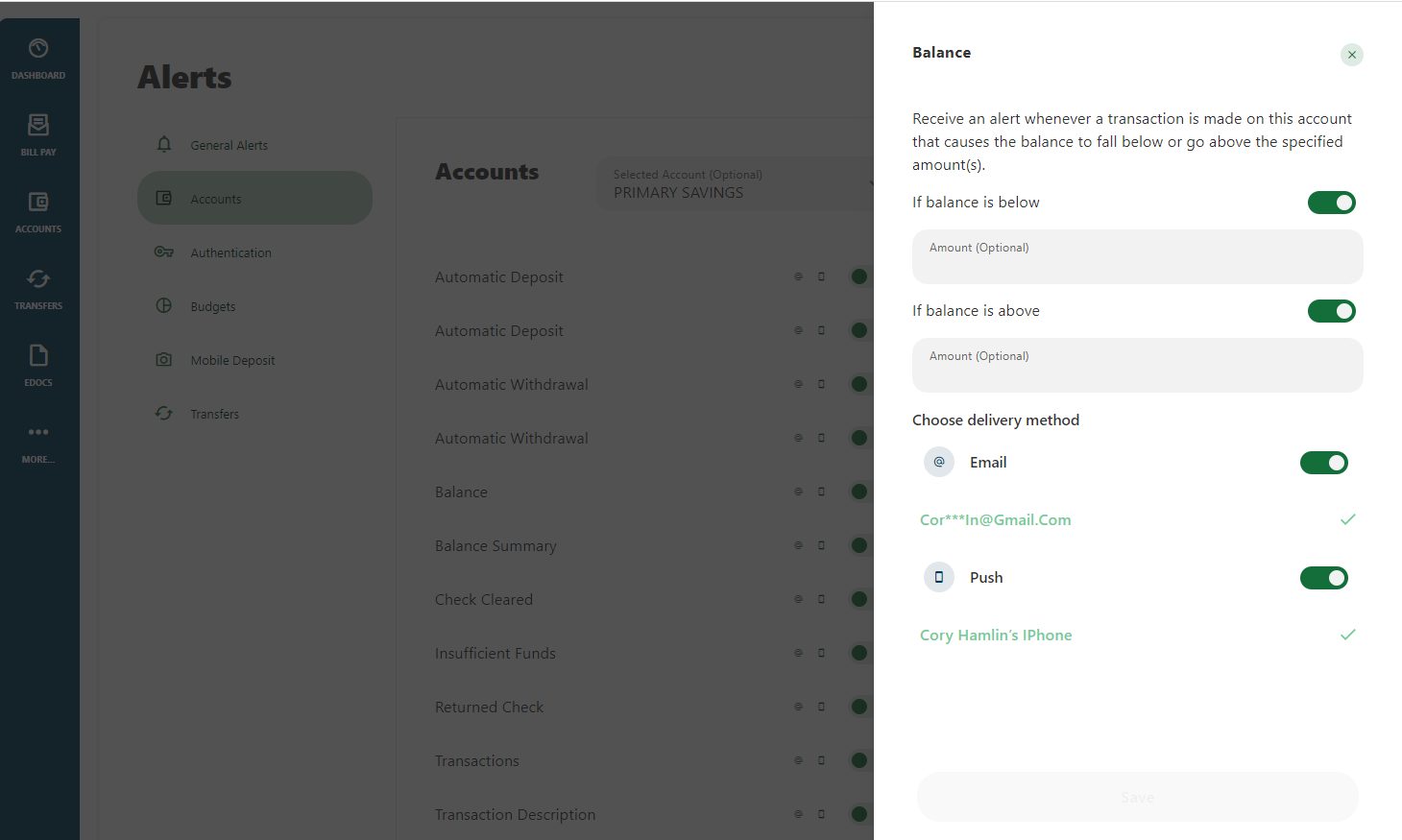 Adding External Accounts
With our new Digital Banking Solution, you'll be able to add your accounts outside of LOC into your new Dashboard, giving you a full 360 view of all of your financial accounts in one convenient location. You will be able to add accounts for viewing purposes, as well as transacting. These accounts span across other checking and savings accounts, loans, credit cards, mortgages and more.
After you add these outside accounts, the details and transactions will be automatically synchronized each time the you log in. No more logging into five different websites to view your balances or make your payments. You'll be able to view all aggregated accounts across all of your devices.
Viewing External Accounts
From the Dashboard hover over Tools and then click on "Settings"
Select the "Accounts" tab
In the upper right hand corner you'll see "Link an External Account"
Select "Link accounts from another financial institution
Type in the name of your other financial institution. Select your external financial institution from the pre-populated list
Provide your login credentials to that particular site (Before entering, please verify that the name and the login URL is correct)
Once successfully added, your accounts details will begin to come over (This process may take a couple minutes)
Adding External Accounts for Transfers
From the Dashboard hover over Tools and then click on "Settings"
Select the "Accounts" tab
In the upper right hand corner you'll see "Link an External Account" click that to get the process started
You'll need to provide the account type, the routing number and the account number of the external account you're wishing to add. You can also add a nickname to help you tell which account is which
Once successfully added, your accounts details will begin to come over (This process may take a couple minutes)
These external accounts will now be viewable in the Accounts Widget and the Accounts Module within the Dashboard module
Bill Pay
Our free online Bill Pay service will provide you with the flexibility to pay who you want, when you want, using a single, secure website.
With the upgrade to the new solution, you'll have peace of mind knowing that all of your existing payee/payment information will carry over. After launch, we do recommend reviewing your Bill Pay settings, just to be sure everything is correct. It is important to note that members with multiple bill payment accounts, we can only convert payment history for one of the accounts.
Important Service Outages Ahead of Launch
Thursday, March 17 at 5:00 PM- Bill Pay registration will be turned off
Tuesday, March 22- Bill Pay may be unavailable for a period of time early on 3/22 until the validation process is complete.
New Financial Wellness Tools
While we know you may have grown accustomed to our LifeTrack Personal Financial Management Tool over the years, with the upcoming launch of our new Digital Banking Solution, we're happy to announce the arrival of some great new Financial Wellness Tools that you're going to love. As LifeTrack gets sunset on March 22, these new tools will provide you with a single, trusted landing spot to review and manage your spending, saving, borrowing, and other financial activities. In addition, you'll also be able to enjoy:
Setting Saving Goals
A Spending Analyzer to Help Track All of Your Accounts in One Place
Comprehensive Credit Score Analysis & Reporting
Customized Credit Offers Based on Your Financial Needs & Situation
Expanded Notifications and Account Alerts
And More
It's important to note that any external accounts you currently have setup, will need to be re-established upon launch of our new Digital Banking Solution.
Hide Accounts
You can hide an account on the Dashboard without affecting your ability to transfer to and from that account. However, if you hide your account in the Accounts widget, you will no longer be able to transfer funds to or from that account. To regain access to an account, go to "Settings" and modify it under the Accounts tab.
Hiding Accounts Through the Dashboard:
On your Dashboard, click the gear icon
Uncheck any account you'd like hidden
Hiding Accounts Through the Accounts Widget
Hover over the Accounts tab and select "Accounts"
Select the pencil to edit account details
In the drop-down menu, select the account you'd like hidden
Check the box to "Hide This Account"
*Please note, if you hide your account this way, you will not be able to transfer funds to/from that account.