LOC Credit Union Officially Breaks Ground
on Its New Brighton Location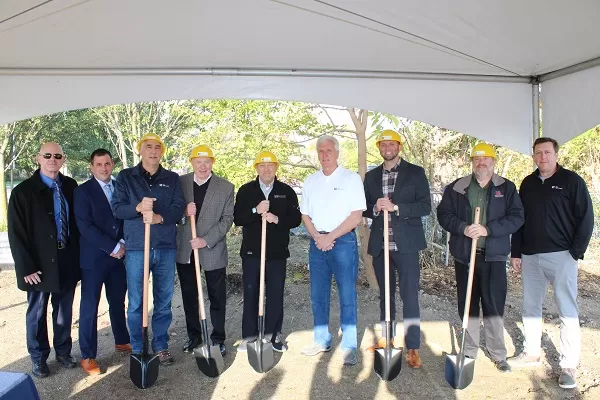 At a ceremony held on October 18, 2023, LOC Credit Union officially broke ground on its new 3,000 square-foot, full-service Brighton branch, located at 1025 E. Grand River Avenue, near Kissane Avenue.
Credit Union Chairman Michael Lasley and President/CEO Stephen Grech were joined by several other members of the Board of Directors and senior leadership team as well as representatives from the city, Brighton Area Chamber of Commerce, the architect and construction management firm overseeing the project.
During the short ceremony, Lasley noted, the LOC Credit Union Board of Directors has had a long-term vision and desire to have a location in Brighton. "We are excited to be adding a new branch office here in Brighton, and we look forward to serving our City of Brighton members and others who will soon learn of the benefits of banking with LOC Credit Union."
He added, "This new branch represents a significant investment in Brighton and improves a property that has long been vacant and returns it to productive use while also paving the way for future development next door."
The new Brighton location will be LOC Credit Union's third Livingston County branch. LOC Credit Union has had a presence in Livingston County since 1975 when it opened a branch in Howell. The current Howell location opened in 1997; a branch in Hartland in 2007.
Grech noted that while the LOC boasts a robust digital offering, traditional brick and mortar banking still plays an important role. In reflecting on the Credit Union's history in Livingston County, he spoke about the existing membership base already in the Brighton community. "With our long-standing presence in the county dating back to 1975, we look forward to serving our many members living in the Brighton area at this new location in early 2024."
The building was designed by Brighton-based Lindhout Associates Architects. The project is being overseen by Midwest Contracting Company, LLC. The location is scheduled to open in Spring 2024.
Go to main navigation